An Apple a Day: Life Insurance Awareness Month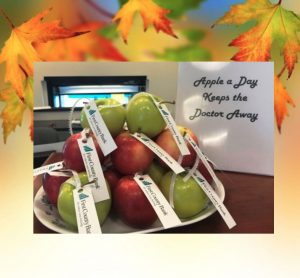 An apple a day keeps the doctor away. Have you had your apple today? Stop by any of our branches to get yours and learn more about protecting your assets during "Life Insurance Awareness Month" this September.
In an effort to encourage our customers to review their protection needs, the branches have created some fun ways to get you to think about the importance of life insurance.   Insurance can seem complicated and overwhelming, but as trusted advisors, we are here to be sure you know that we can help with all of your financial needs, including protecting your family from the unexpected.
Life insurance can help secure the financial future of your loved ones, help with funeral costs and pay off any outstanding debts. If you're a parent, life insurance can help to pay for tuition and other educational expenses for your child. Buying a life insurance policy can help ensure that your family doesn't have to rely on your retirement savings for financial support should anything happen.
Call our CustomerFirst Contact Center at (203) 462-4400 Monday through Friday from 8:30 a.m. to 4:30 p.m. of stop by any one of our 16 conveniently located branches to learn more.
For branch locations visit: https://www.firstcountybank.com/branch-hours-locations-and-directions