Black Friday Safe Shopping Tips
During the Thanksgiving holiday, many prepare for the madness of the following morning, Black Friday.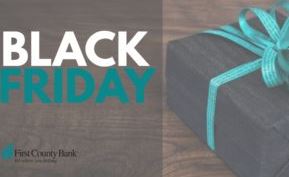 While debit cards are a popular form of payment they may not be the best choice. Credit cards have become one of, if not the safest way to pay for purchases. Using a credit card is safer than a debit card because it is not directly linked to a checking account and you can often dispute charges if something is wrong.
Here are a few situations on Black Friday where you may be better suited to use a credit card:
Online. Since the debit card links directly to a checking account, don't use a debit card online or for phone orders– you are potentially vulnerabile.
Big-Ticket Items. With a big ticket item, a credit card is safer. A credit card offers dispute rights if something goes wrong with the merchandise or the purchase. With a debit card, you have fewer protections. In addition, some credit cards will also offer extended warranties. And in some situations, such as buying electronics or renting a car, some credit cards also offer additional property insurance to cover the item.
If You're a New Customer. Online or in the real world, if you're a first-time customer in a store, skip the debit card the first couple of times you buy. That way, you get a feel for how the business is run, how you're treated and the quality of the merchandise before you hand over a card that links to your checking account.
Buy Now, Take Delivery Later. Buying now but taking delivery days or weeks from now? A credit card offers dispute rights that a debit card typically does not. But be aware that some cards will limit the protection to a specific time period. So settle any problems as soon as possible.
Here are some tips to help make your holiday shopping season safe and joyous:
Shop during the day when possible. If you have to shop at night, bring along a friend and park in well-lighted areas.
Avoid parking next to vans, trailers, and other vehicles with tinted windows.
Never leave valuable items in your car where they are visible to thieves.
If you carry a purse or backpack, guard it carefully. Never leave it on the roof of your car while you're attempting to open or lock your car.
Be aware of your surroundings. It's easy to get distracted by the bright lights and shopping specials, but it's important to be vigilant about any hidden dangers.
Locate your keys before you get to your car.
Try not to carry large sums of cash on you.
Be suspicious of any strangers that may approach you, particularly in parking garages and parking lots.
Keep a record of all your credit card numbers at home in case your cards get lost or stolen.
Trust your instincts. If something doesn't feel right, proceed with caution.
For more fraud protection or security tips, click here.