Get to know Kyle Fallon, Credit Analyst in our Commercial Credit department.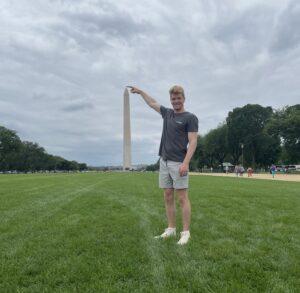 Tell us a little about yourself!
I was born and raised in Norwalk, CT. After graduating from Norwalk High School, I attended the University of Miami. I majored in Finance and received minors in Accounting and Classics. I spent a semester abroad in Rome my junior year and had the opportunity to visit 12 different countries during that time. I have both an older sister and younger sister and am very close with my parents. I enjoy reading, cooking, traveling and hanging out with friends and family in my free time.
What would you consider to be the best book that you have read within the last year?
I honestly read a ton. I block out 30 minutes each day during my lunch break to read and disconnect from my phone. I probably start and finish one to two books a month. The best book I have recently finished was "The Righteous Mind", a social psychology book by Jonathan Haidt. This book analyzes human morality as it relates to politics and religion.
What is your favorite part of your role with First County Bank?
My favorite part about working at First County Bank is the opportunity it provides me. Each and every day I am able to connect with various coworkers across many departments and get to be involved with a variety of assignments. I am constantly leveraging the knowledge of my experienced coworkers and my development, as both an individual and professional which has been significant. I enjoy the exposure I get to the many people, businesses and nonprofits within the local community.
Additionally, First County Bank is supporting my continual education, through the enrollment in the Connecticut School of Finance and Management.
Do you have a favorite First County Bank moment? This can be any moment at the Bank that has made an impact on your life.
My favorite First County Bank moment was receiving the 2021 Millennial and GenZ award, hosted by the WestFair Business Journal. I was honored to be nominated by First County Bank and receive the award. Many coworkers and members of the senior management team came out to support me at the event. First County Bank has always treated me as family.