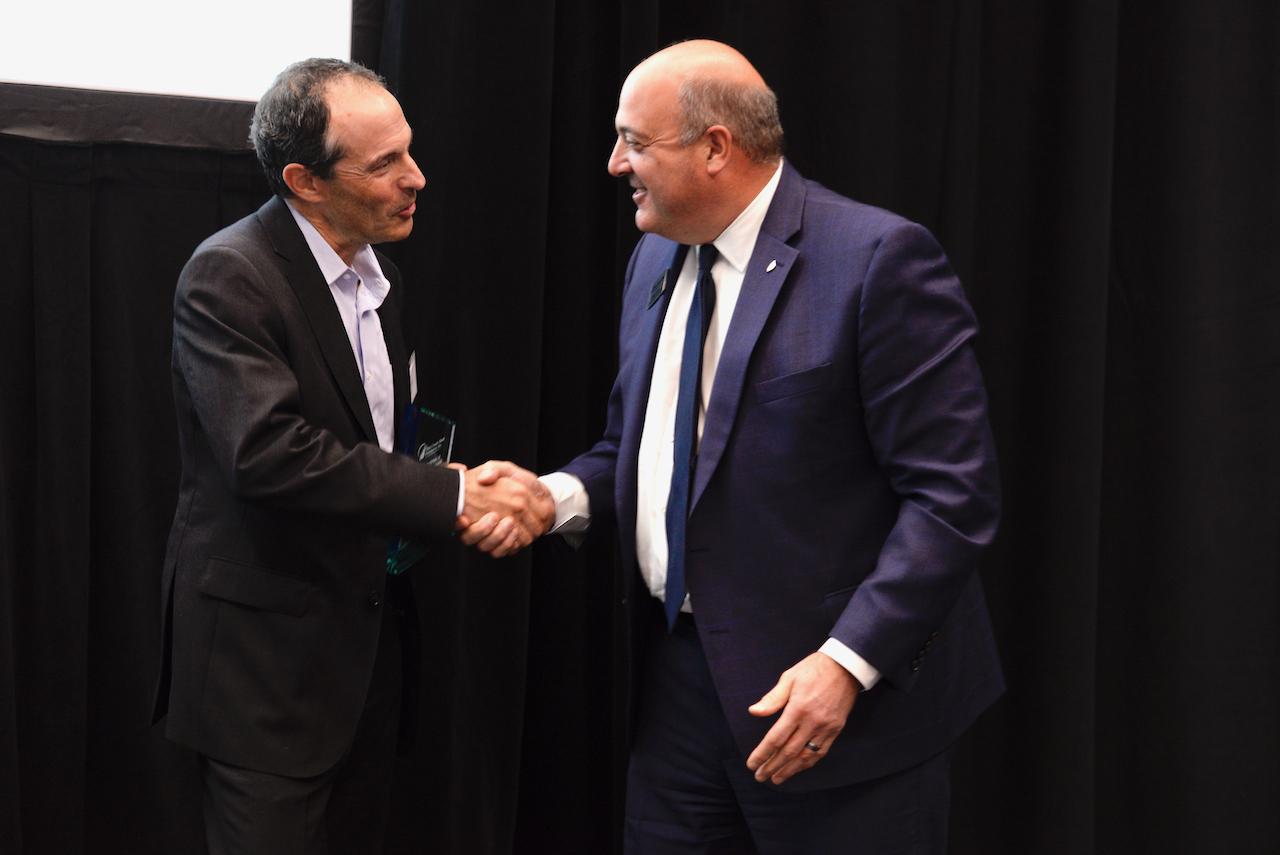 STAMFORD, Conn., October 27, 2022 – First County Bank Foundation is pleased to announce that Richard Freedman of Stamford, CT, is this year's recipient of the Reyno A. Giallongo Community Legacy Award. The annual award along with a $2,500 donation check for Open Communities Alliance in Freedman's name, was presented at a reception held at the Hyatt Regency Greenwich on October 20th.
Richard Freedman is President of Garden Homes Management Corporation, a second-generation family business focused on the ownership, management, and development of real estate throughout the Northeast, focused on apartments and housing communities.
Through the Garden Homes Fund, a direct grant-making and private foundation with an emphasis on affordable housing, zoning reform and desegregation, Freedman conceptualized and partly funded Franklin Apartments, a 100% deeply affordable 53-unit rental completed in 2019, located in Stamford and owned by Inspirica, a local nonprofit focused on affordable housing. Franklin Apartments provides affordable housing for local residents who earn less than a third of the area's median income, helping to alleviate the persistent problem of family homelessness in the region. Additionally, the Garden Homes Fund is currently developing two 100% deeply affordable philanthropic rental buildings comprised of 17 units in the Springdale section of Stamford and 19 units in Westport.
In addition to Freedman's ongoing philanthropic efforts, Richard is committed to causes that are fundamental to the livelihood of the City of Stamford. He has held several civic positions including being a member of the Stamford Board of Finance since 2013 and its chairman since 2015 as well as being Past President, Stamford Board of Education, and a member of the Democratic City Committee. Freedman received an undergraduate degree from Yale University and an MBA from Yale School of Management.
"During these challenging economic times, First County Bank Foundation is proud to recognize Richard Freedman, a local individual whose commitment and passion for ensuring the local residents have access to affordable housing is consistent with the values and mission of First County Bank," stated Robert J. Granata, Chairman and CEO of First County Bank and President of First County Bank Foundation. "We're proud to recognize Richard with the year's Reyno A. Giallongo Community Legacy Award," added Granata.
"As a long-time Stamford resident, I am aware of the good work of First County Bank, and I am both honored and humbled to receive this honor. My family has always felt a responsibility to give back to the community by donating time and energy to causes that are important to local residents," stated Richard Freedman. "Ensuring that affordable housing and a public education is available to families is at the root of financial well-being," added Freedman.
Established in 2018, the Reyno A. Giallongo Community Legacy Award, named after First County Bank's retired Chairman and CEO, recognizes the exceptional achievements and meaningful contributions of an individual or couple, residing in Stamford, Norwalk, Darien, Fairfield, Greenwich, New Canaan or Westport, who through their actions, experience, talent and skills, directly benefit activities and programs in the areas of affordable housing, economic development, education or quality of life for families and children, as consistent with the First County Bank Foundation mission. The Community Legacy Award honoree receives a commemorative plaque and $2,500 donation to the nonprofit of their choice.
About First County Bank Foundation
Established in 2001 in honor of the Bank's 150th anniversary, First County Bank Foundation was created to distribute funds annually to nonprofit organizations that support community and economic development, affordable housing, and programs that support quality of life and educational enrichment for children and families. As a mutual bank with no shareholders, First County Bank considers grants made by the foundation a means of paying dividends back to the local communities it serves.
About First County Bank
First County Bank, headquartered in Stamford, Conn. for more than 165 years, is an independent mutual community bank with 16 branches in Stamford, Norwalk, Darien, Greenwich, Fairfield, New Canaan and Westport offering deposit products, mortgages, wealth management, business banking services, and a full array of digital banking products including mobile and online banking.  First County Bank has more than 220 employees, assets in excess of $1.9 billion and is a winner of the Hearst Connecticut Top WorkPlaces award 2020-2022.  For additional information, please visit www.firstcountybank.com, or follow us @Firstcountybank on Facebook, Instagram, Twitter, and LinkedIn.