Stay Connected with First County Bank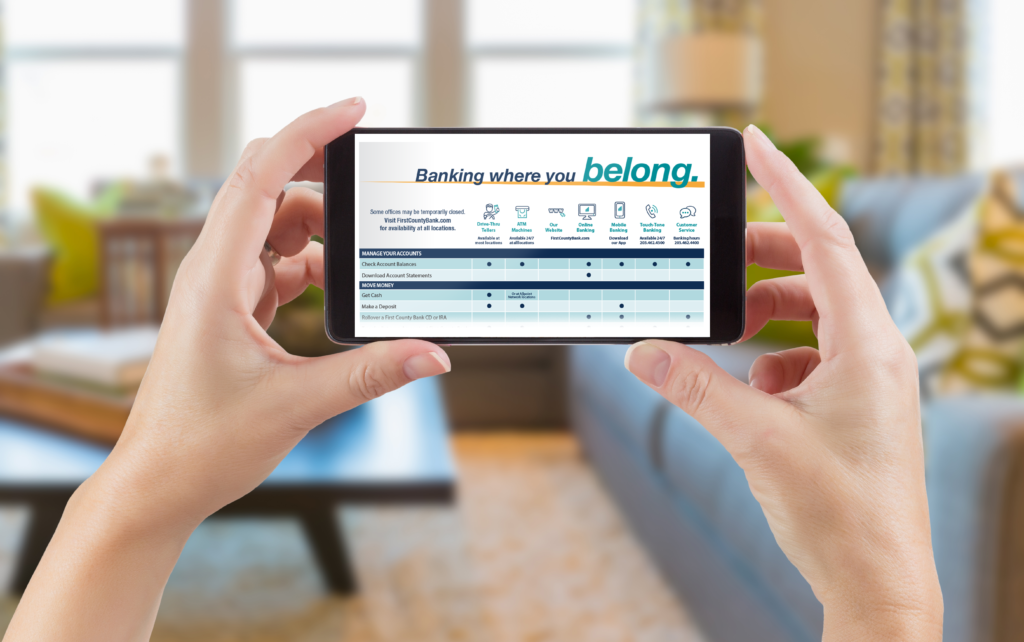 Did you know many of your everyday banking transactions can be done without even stepping foot in a branch? To see the best way to manage your accounts, move money, add an account or service, and more, view our Account Access Guide on our website.
What to do if you find yourself in need of mortgage or loan relief 
Many people have been financially impacted by the COVID-19 pandemic. If you find yourself unable to pay your mortgage or loan payments, the Coronavirus Aid, Relief, and Economic Security (CARES) Act, puts in place protections for homeowners with federally backed mortgages, and protections for people with student loan payments.
For customers of First County Bank who may be having difficulty making payments, as of March 26, 2020, we will temporarily waive late fees for all loan types. If you experience difficulty in making your loan payment for a COVID-19 related issue, please contact our CustomerFirst Contact Center during regular business hours at 203-462-4400 or send an email to sag@firstcountybank.com. Visit our website for more information about Financial Assistance.
How to protect yourself and your children from identity theft 
With all of the uncertainty of the COVID-19 pandemic, scammers are actively seeking out ways to steal money and personal information from unsuspecting victims. It is important to take steps to keep yourself and your children safe from identity theft.