First County Bank is committed to working with growing female-run businesses in the Fairfield County area. But don't take it from us. We've recently spoken to five women whose businesses bank with us, and asked them to share their story.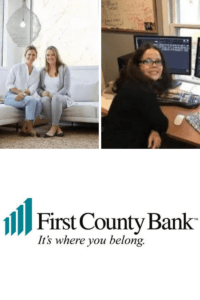 The participants include:
Abby Knott and Lindsay Hurty, the co-founders behind the Darien based Community + Coworking company, Everwell
Deborah Casey, Partner and Chief Client & Operating Officer of Milk, a Marketing Communications and Advertising agency in the heart of South Norwalk
Francisca Bogdan, Founder of Wilton based Creative Video Corporation
Carol Landsman, Executive Director of Fairfield County's Rehabilitation Associates, Inc.
Before we get to their stories, let's get to know each company.
Women-Owned Small Businesses in Connecticut
Everwell is a membership-based multipurpose workspace and social community with highly curated programs and events that support and inspire all aspects of women's lives—both personally and professionally.
Outside of the 3,000 square foot multipurpose workspace in Darien, members can now experience Everwell's programs and events from anywhere with their new virtual platform.
Milk is a Marketing Communications and Advertising agency located in the heart of South Norwalk, which has been helping clients build their brands for almost 20 years. The agency specializes in Brand Building.
Creative Video Corporation in Wilton specializes in production, post production and digital marketing with a goal of helping businesses promote their value proposition. They've been in business since 1997.
Rehabilitation Associates Inc. has provided one-stop comprehensive outpatient services to a birth to geriatric population for over 40 years with multiple locations throughout Fairfield County.
All services at Rehabilitation Associates Inc. are provided onsite so that patients do not have to search for interventions needed in a variety of settings. Their team is fully certified within their specialties and provides one-to-one individualized treatments for the entire appointed time.
Running a Small Business as a Woman
Deciding to open your own small business, especially as a female, is not the easiest decision. But as Landsman told us, there has been progress in this area.
"When we started 41 years ago it was difficult to rent space, open credit cards and receive loans or credit lines. Things have changed for the better, but there is still a way to go. Salary parity is still not where it needs to be. We all have to work together to continue to advocate for gender equality in business."
Despite the difficulties that men may not share, such as juggling work and family, our female business owners would do it all again regardless of the hurdles they faced. Landsman shared the following advice for future female leaders.
"Plan to work long hours and grow slowly to develop and maintain the quality control needed along with the best and most qualified employees you can find. Quality and excellence in whatever you do is the only thing that will keep you going over the long term. There are no shortcuts."
Positive Experiences Working With First County Bank
First impressions are important when deciding who you trust handling your finances and at First County Bank we do everything we can to earn that trust right from the start. Knott and Hurty confirmed this was why they chose to do business with us when they said the following:
​​"Since our first meeting with First County Bank, we knew we had found our financial partner, a common-sense lender who works every day to support their customers and our community and a true ally who has our back as small business owners."
But that's not all. Sometimes banks don't want to do business with those starting a new business. Bogdan had a difficult time receiving rejections before visiting us.
"In 1997 no bank took me seriously. I was discouraged and upset, because I realized that banks and investment money was only provided to people that were already established, and with means. I was young and thought the system catered to just one type of person. Then I walked into First County Bank. I still remember how I felt. I felt welcomed, they took the time to listen, they cared, I didn't hear a no, and received no judging faces. At First County Bank I only saw smiles, and received consistent recommendations on how to proceed. I presented my business plan, and the rest is history. For 22 years First County Bank has been right there helping me grow my business."
Running a business can bring about many challenges and when they occur you want a partner you can rely on. Casey shared some pitfalls of running a small business and how First County Bank helped.
"First County was incredibly helpful when applying for a PPP loan. They kept an open line of communication on how to process the paperwork, deadlines and changes as they came. We were so fortunate to be with First County during this time because to them all clients matter and because of that we were able to access a PPP loan. I don't believe this would have happened if we banked with one of the national banks."
Bring Your Small Business to First County Bank
First County Bank has been supporting women-owned small businesses for decades, and we're proud of what these businesses have accomplished.
We're always looking forward to working with local business owners, so don't hesitate to contact us.
Whether you currently work with a Big Bank or another local bank, and don't feel that you are being supported as well as you could be, we'd love to speak with you and tell you what we can do differently for you.